Dog Fencing
Pet Stop of Central Georgia is a licensed dealer of Pet Stop® underground pet fencing systems and we understand that when your pet's safety is a concern, it's important for you to fully understand how your electric pet fencing system operates. Our dog and cat fencing products are extremely versatile and user-friendly, and we'll walk you through the entire process to make sure you know how to get optimum performance from your electronic pet containment system. We also offer both indoor and outdoor pet containment solutions – no matter where you need a pet fence, we'll find a way to keep your pet safely, securely, humanely contained with Pet Stop®.
Our pet fencing systems consist of a small boundary wire, usually buried 3″- 5″ beneath the surface around the perimeter of the zone you want your pet contained to. This wire is connected to a transmitter, which sends a unique signal to the buried wire. When your pet nears the boundary wire, their receiver collar will alert them with a gentle correction, warning them away from off-limits zones and helping them stay out of harm's way.
Your pet will be fitted with a receiver collar – this collar is what warns dogs or cats away from pet-free zones, by first emitting an audible warning beep and/or then a gentle tickle pulse. Properly trained pets usually only need the audible beep to steer away from the boundaries, though they may test them from time to time.
Outdoor Systems
We provide installations of outdoor underground fencing system that will not only keep your pet safely contained, but can also keep your pet out of your garden, landscaping, pool or other off-limit zones.
Indoor Systems
Pet Stop® brings the benefits of boundary setting indoors, too. Our technology can easily keep kitty off the kitchen counter, the dog out of the litter box or correct any other behavior issues you may be having.
When using an underground, electronic pet fence, proper training is critical to ensuring fence system effectiveness and successful pet containment. In the past, the industry norm was to use painful shocks to scare your pet away from the fence boundaries – not very pet friendly. At Pet Stop of Central Georgia, we use the revolutionary GentleSteps™ training technique, a low-stress, modern method of pet fence training that uses extremely low levels of correction (mere tickles), positive reinforcement, and tasty treats to teach your pet their new boundaries – the end result is a happier, healthier pet who's also safely and effectively contained. GentleSteps™ is so low-stress that we can even train shy and rescue dogs to the fence – you can rest assured that your pet is in the best of hands with the pet fence training professionals at Pet Stop of Central Georgia.
Layouts
Below are our most popular underground pet fencing layouts, but we can customize the fence boundary layout if necessary – we can also make flower beds, pools, ponds, and other landscaping elements off-limits to your pets.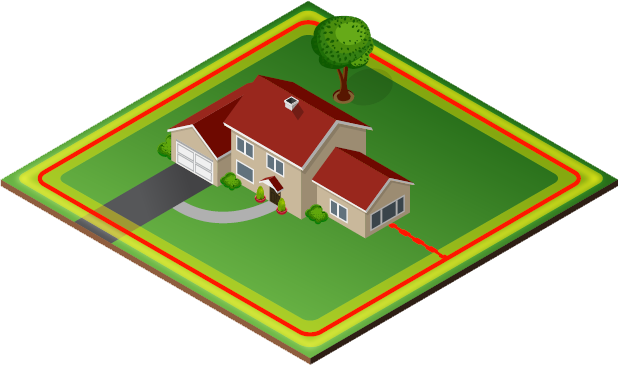 Perimeter Layout
The Perimeter Layout is the most common and encompasses both your front yard and backyard. Your pet can move between the yards, allowing them maximum freedom and exercise space.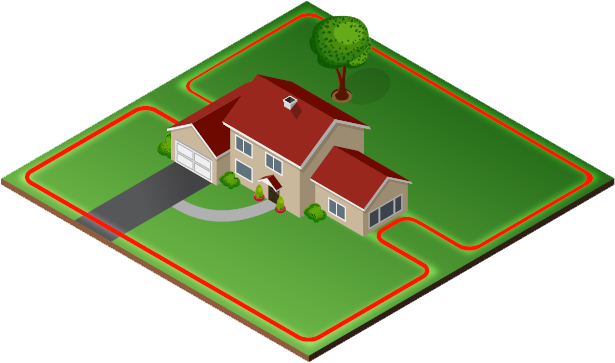 Hourglass Layout
Another popular layout, the Hourglass Layout is almost like a full perimeter, but note how the sides are pinched in – this means that in order to move from the front yard to backyard (or vice versa), your pet will have to go through the house.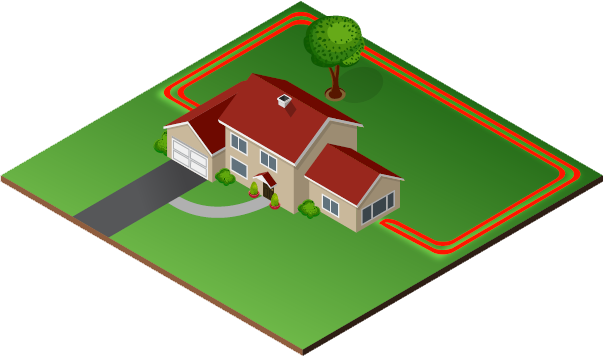 Double Loop Layout
The Double Loop protects the front OR back yard only, which leaves part of your property unprotected from escape. We usually only install this layout if your property's geography prevents the installation of a full perimeter or hourglass layout.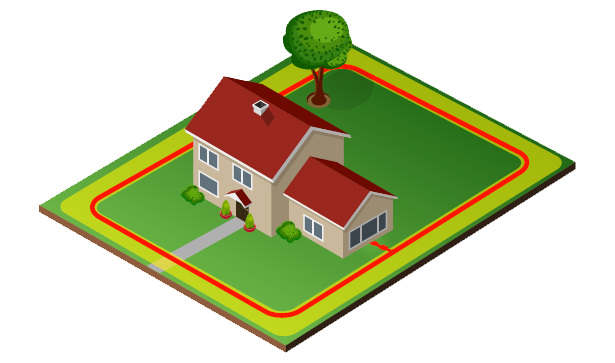 Edge-To-Edge™
Small yards are no problem at all for Pet Stop® technology. Our boundary fences offer settings to create a one-sided signal zone around the perimeter wire in order to maximize the amount of yard your pet can enjoy.
Invisible Fence® Compatible
If you're an Invisible Fence® brand containment system owner and you feel trapped with the high cost of maintenance and replacement parts, think again! Our products are fully compatible with Invisible Fence® brand systems. Save up to 50% on replacement receivers, transmitters, batteries and more with Pet Stop®. Replacement fencing parts from Pet Stop® offer OEM quality components at a fraction of the original cost. Why pay more?